Kingdoms and Castles Wiki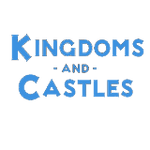 Welcome to the Official Kingdoms and Castles Wiki
Welcome to the Official Kingdoms and Castles Wiki
The Kingdoms and Castles reference written and maintained by the players.
Please feel free to contribute by creating new articles or expanding on existing ones.
Kingdoms and Castles
Kingdoms and Castles is a game developed by the team of Peter Angstadt and Michael Peddicord of Lionshield Studios. This game is inspired by Simcity, Banished,, and Stronghold. In Kingdoms and Castles players focus on growing a kingdom from a tiny hamlet to a sprawling city and imposing castle.
Your kingdom must survive a living and dangerous world. Do the viking raiders make off with your villagers? Or are they stopped, full of arrows, at the castle gates? Does a dragon torch your granary, your people dying of starvation in the winter, or are you able to turn the beast back? The success of your kingdom depends solely on your skill as a city and castle planner. devastating abilities,
Wiki Community
We are currently maintaining 705 pages (148 articles)!
Recent changes | New pages | Missing pages
See how you can help contribute to Kingdoms and Castles Wiki! Remember to maintain a standard for grammar and punctuation in your contributions, please.
Register an account to keep track of your contributions.